PrayPal

I_S_L_A_N_D_S
April 2020

Part of the collective group show 'PrayPal' with Pure Ever (Rifqi Amirul Rosli, Zhiyi Cao, Raigo Law, Elsa Wong, and myself) in collaboration with I_S_L_A_N_D_S. As part of the re-opening of their new space at Peninsula Excelsior and due to the Covid-19 pandemic, the opening had to be streamed live with artist talks and 360 webcam view from inside of the space.

PrayPal speaks to the significance of the occult as a medium that drives legitimate, self evolving narratives of being. One that takes the processes out of a distinctly human project, and confounds it with the weird and the eerie – both as a mode of affect, as well as a mode of science. It serves as a doorway, with an affective pull towards matters of being that demand attention by colliding it with the anomalous. Where the sphere of the occult is a medium for understanding the threshold between physicality and spirituality, the conscious and unconscious, the human and non-human, it is there too that we might find that we are not bound within singularity. But rather, this threshold illuminates the true nature of our contemporary social experiences and reveals our relationship to our state as neoliberal subjects through manner and matter of ghosts, orbs, hauntings, spectres, plasma, spirits, gods, demons etc. And for those who have long understood the multiplicities of being, PrayPal is perhaps a haunted ontology – a hauntology – and it speaks to our humanity; to the elements of intangible oppression and suffering, and to the desires and wants that do not and cannot be sustained in reality.

@pure.ever
@islands.peninsula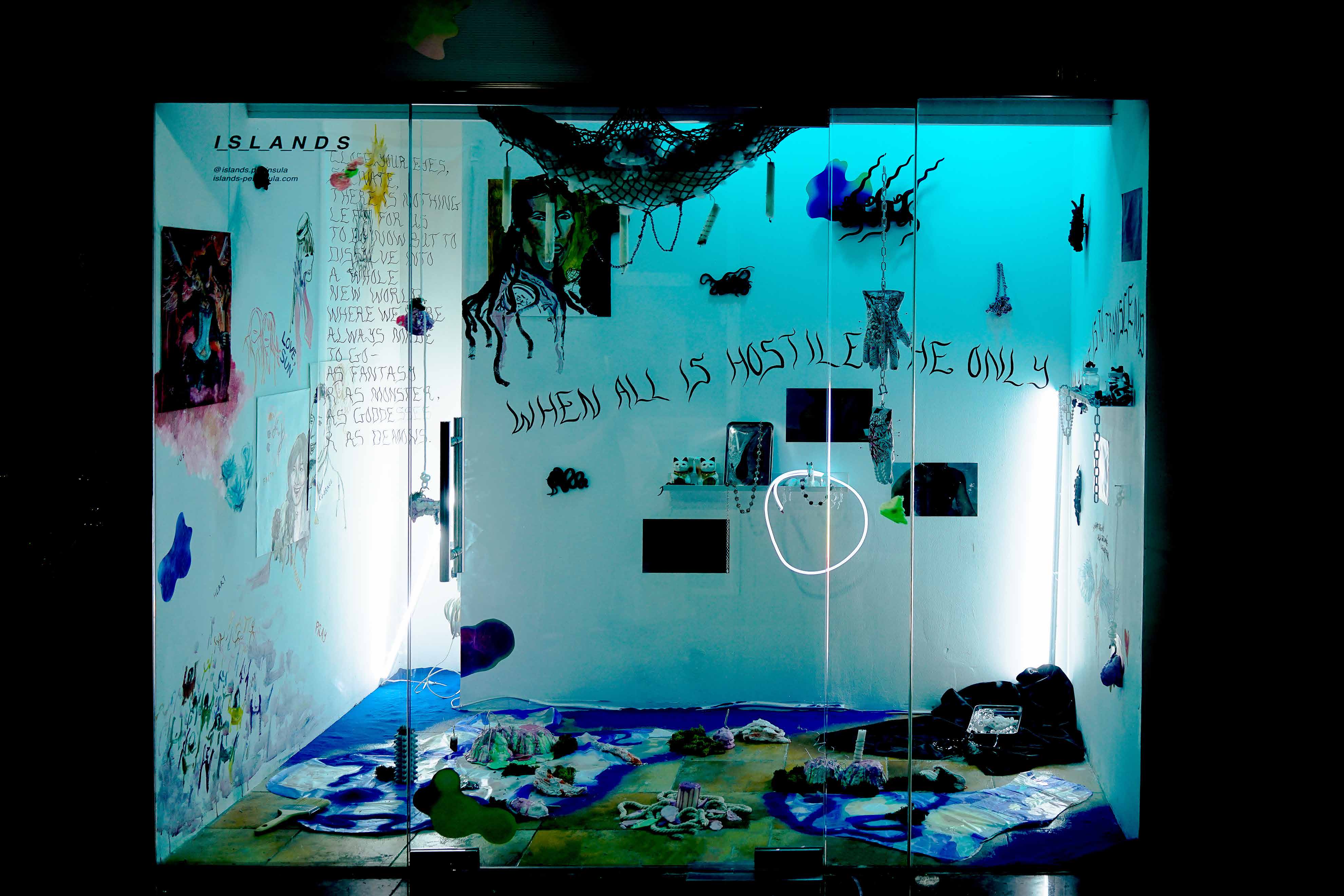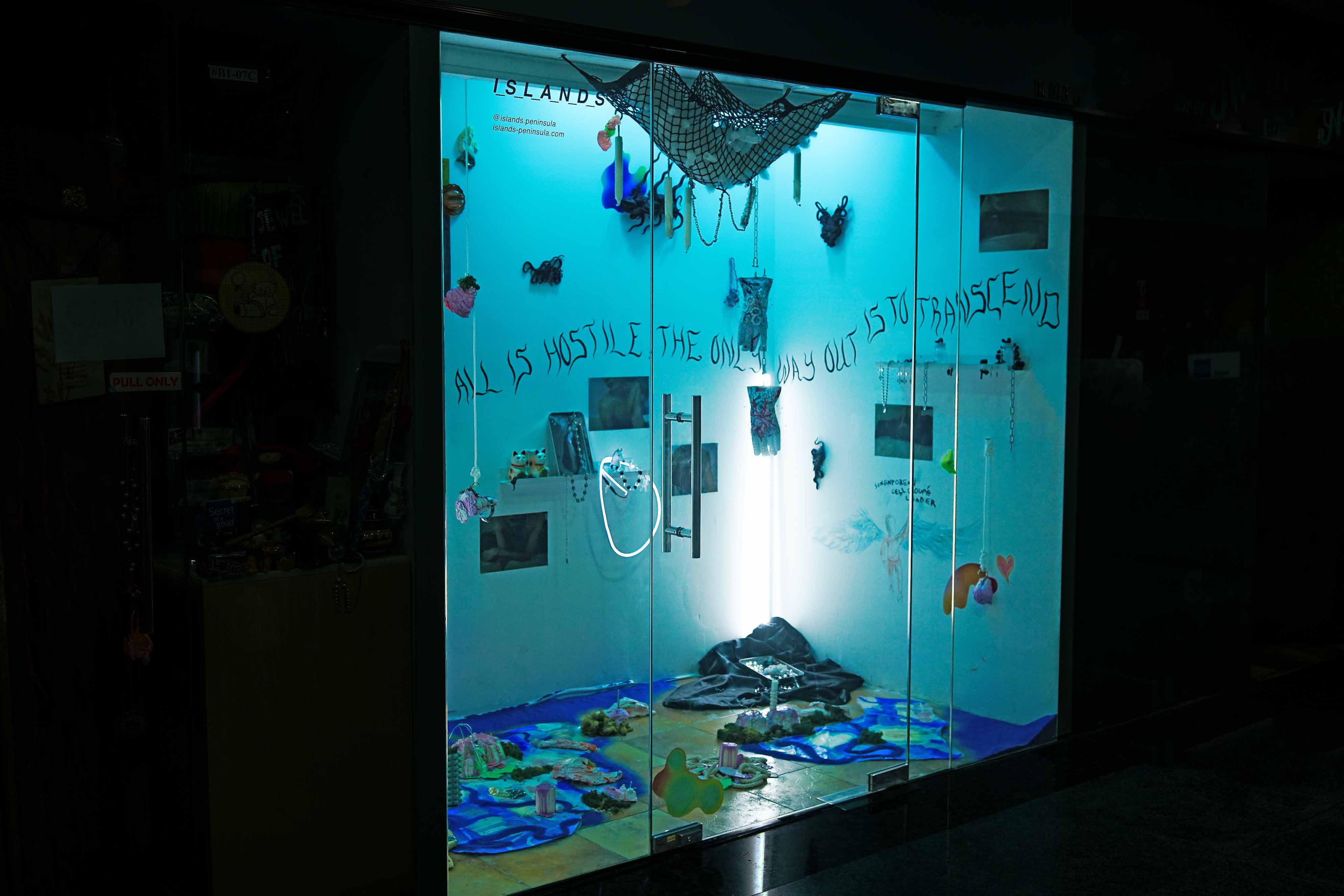 For my contribution to the show, 'When all is hostile, the only way out is to Transcend', I created 3 components that contributed to a whole. 2 sets of texts – one on the wall acting as an anchor, mantra and title, along with a short poem that served as a body – as well as two decorated gloves that served as a subsidiary part to the texts, acting as a fictional device of action. (Seen below).

These works were created in part as a response to the situation of Covid-19 and its affect it had on the world. The creation of these works unintentially became a product of the interruption of the events that took place. As a whole, they draw attention to the nature of such a state of hostility as one that is inescapable, but not necessarily inconsolable. It brings to the table an enthusiasm for things considered eerie and weird to serve as a vector of freedom. They are to me a recontextualisation of the many rituals and cultural devices either diminished by science, or by society at large, to have the capacity to transform epistemology into a sociological and ontological enterprise – one that reveals our relationship to our precarious state of that particular moment in time.

The poem reads, "Close your eyes / Salivate / There is nothing left for us / to do now but to / dissolve into a whole new world / where we were always made to go / as fantasy / & as monster / as goddesses & as demons."


When all is hostile the only way out is to transcend,' that is maybe a radical mantra, something for this time that we are in, you know? To me, the realm of the occult and spirituality is just one of the ways that we can think about how we can do that, how to dissolve the human project. How we can think of it as dealing with the locality of issues we face day to day, especially now, as they are being amplified. It's a way to think about how we're connected to all these larger networks, and how they're connected to the local as well as the global affective structure. And when we eventually do come out of this, we can't just allow for things to go back to the way that it was. We have to assert a larger-scale ambition, one that not only transcends our current hostile state, or our physicality, but also to transcend... systems that we never thought could have been disrupted...
Read feature here -->
<-- Go back